Blog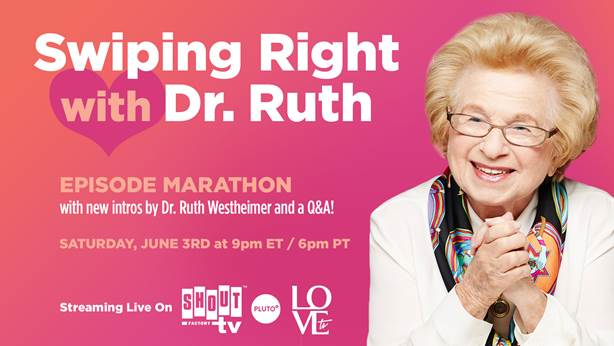 Shout! Factory TV Presents Swiping Right with Dr. Ruth
Dr. Ruth, one of the most trusted names in psychosexual therapy, is coming to Shout! Factory TV. In celebration of her 89th birthday, Dr. Ruth Westheimer will host Swiping Right with Dr. Ruth, a livestreaming event featuring favorite episodes of The Dr. Ruth Show and new Q&A segments where Dr. Ruth covers today's sex, dating and relationship topics. The marathon will air on
Saturday, June 3 at 9 p.m. ET/6 p.m. PT at Shout! Factory TV,
Pluto TV Channel 512, and
Love TV's Facebook page.

In Swiping Right with Dr. Ruth, the talk show legend presents some of her favorite episodes from her TV talk show, featuring guests such as Jerry Seinfeld, Richard Simmons, Joan Rivers, Burt Reynolds, and Harry Shearer. She will also hold a Q&A covering everything from dating in the digital age to her current opinions on Planned Parenthood.
Dr. Ruth Westheimer may best be known for having pioneered talking explicitly about sex on radio and television, but that is only a small part of her rich and diversified life. Born in Germany in 1928, Dr. Westheimer was sent to Switzerland at the age of ten to escape the Holocaust, which wiped out her entire immediate family. At the age of seventeen she went to then Palestine. She joined the Haganah, the Israeli freedom fighters, was trained to be a sniper and was seriously wounded in a bomb blast. She later moved to Paris to study at the Sorbonne and in 1956 went to the U.S. where she obtained her Masters Degree (M.A.) in Sociology from the Graduate Faculty of the New School of Social Research and Doctorate of Education (Ed.D.) in the Interdisciplinary Study of the Family from Columbia University Teacher's College.
Her work for Planned Parenthood led her to study human sexuality under Dr. Helen Singer Kaplan at New York Hospital-Cornell University Medical Center, where she became an Adjunct Associate Professor. Subsequently she taught courses at various institutions of higher learning including Princeton and Yale. She currently is teaching a course at Columbia's Teachers College. She has her own private practice in New York and lectures worldwide.
She is the author of 38 books, the latest of which is The Doctor Is In: Dr. Ruth on Love, Life and Joie de Vivre and the executive producer of five documentaries.
Founded by internationally recognized relationship expert Karinna Karsten, Love TV is a digital entertainment brand whose mission is to enrich love, sex and intimacy in the digital age.
Join the live conversation with other Dr. Ruth fans with the hashtag #DrRuth while you watch.
Tune in and participate in the fandom on:
Twitter: @ShoutFactoryTV and @AskDrRuth
Facebook:
https://www.facebook.com/shoutfactorytv
and
https://www.facebook.com/reallovetv/
For mobile, tablet and connected TV devices the marathon is accessible via the Pluto TV app. The marathon is also available via Pluto TV in the living room (Roku, Amazon's Fire TV and Fire TV Stick, Android TV devices, Chromecast and Apple Airplay), on the go (apps for
iOS
,
Android
and Amazon) and at your fingertips on PC's, Mac's or on the
web
.
After fans have watched the episodes here, select episodes of The Dr. Ruth Show will be available on Shout! Factory TV for VOD streaming following the marathon.